Your first day of PAX Aus is over and the next has begun.
In this issue, you'll discover the hot new trends to look out for on the show floor, or if you can't make it down to the Melbourne Convention and Exhibition Centre I've got you covered.
Monster Hunter World
First of course was to check out the new offering from Capcom on the Playstation 4. I was a little worried with the jump from Nintendo to Playstation (partly because I don't own a Playstation) as Monster Hunter to me has always been cute and cartoony.
Going for realistic graphics hasn't hurt the game the way I thought it would. The mechanics are solid and from the demo level played it's got all the hunting and collecting you've come to expect from a MH game.
Some fun little additions include the 'fireflies' that help you see out materials and monster tracks. While I wasn't able to get into the game much further, it felt great to be actually looking for monster tracks, droppings and leavings to find my prey.
Level Up Dice
Remember when dice were just plain coloured plastic? Once upon a time the early dice with more sides than 6 came with a crayon to draw on your own numbers. Level Up dice show us just how far we've come from those days.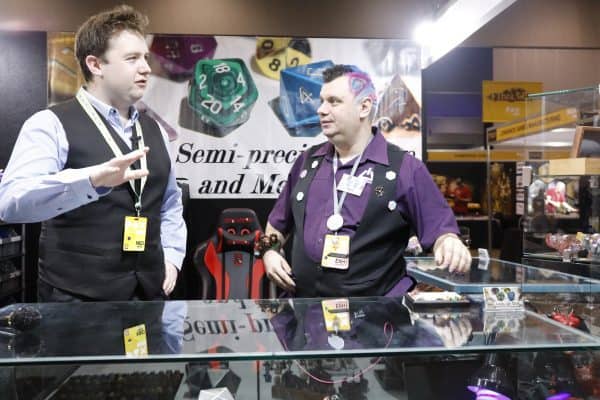 The first thing that stands out are the mdifferent metal dice on offer. Each one has their number etched to different depths to make sure they're still random. 'Caged' dice don't look like the should work at all, but after a few rolls it's the pent-ultimate status symbol at the table.
Of course, the one that has to be felt to be believed is the 'Table Destroyer'. Made from tungsten which is known as being one of the toughest things found in nature. It is a super dense and almost impossible to melt. Perfect for those rolls that pit you against a red dragon.
Steven 'Bajo' O'Donnell from Good Game
Our second big interview for the day was with the Good Game Spawn Point host. Taking time out of his new Twitch stream schedule we talked for 20min about the changing nature of media and the lovely Bajonians.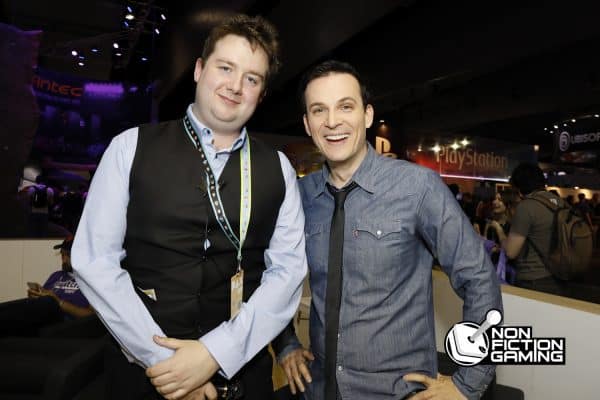 If you're excited to see what Bajo has been up to since Good Game ended the video will be up on the website within the next few days.
His idea for a Halloween costume will shock you.