The Wild Beyond The Witchlight can be a great adventure for D&D fans to enjoy. DMs looking to try it out might find these resources helpful.
We've thrown our recent party into the quirky Witchlight Carnival experience and wanted to improve the immersion. Luckily there are some great map resources to help set the scene for your campaign.
Maps, advice, troubleshooting, handouts, and much more for DMs running The Wild Beyond the Witchlight!
Whether you are a new DM or an experienced veteran, running an official D&D 5E campaign can be a challenge. This bundle of Withlight maps aims to make running The Wild Beyond the Witchlight easy and enjoyable for both the DM and the players.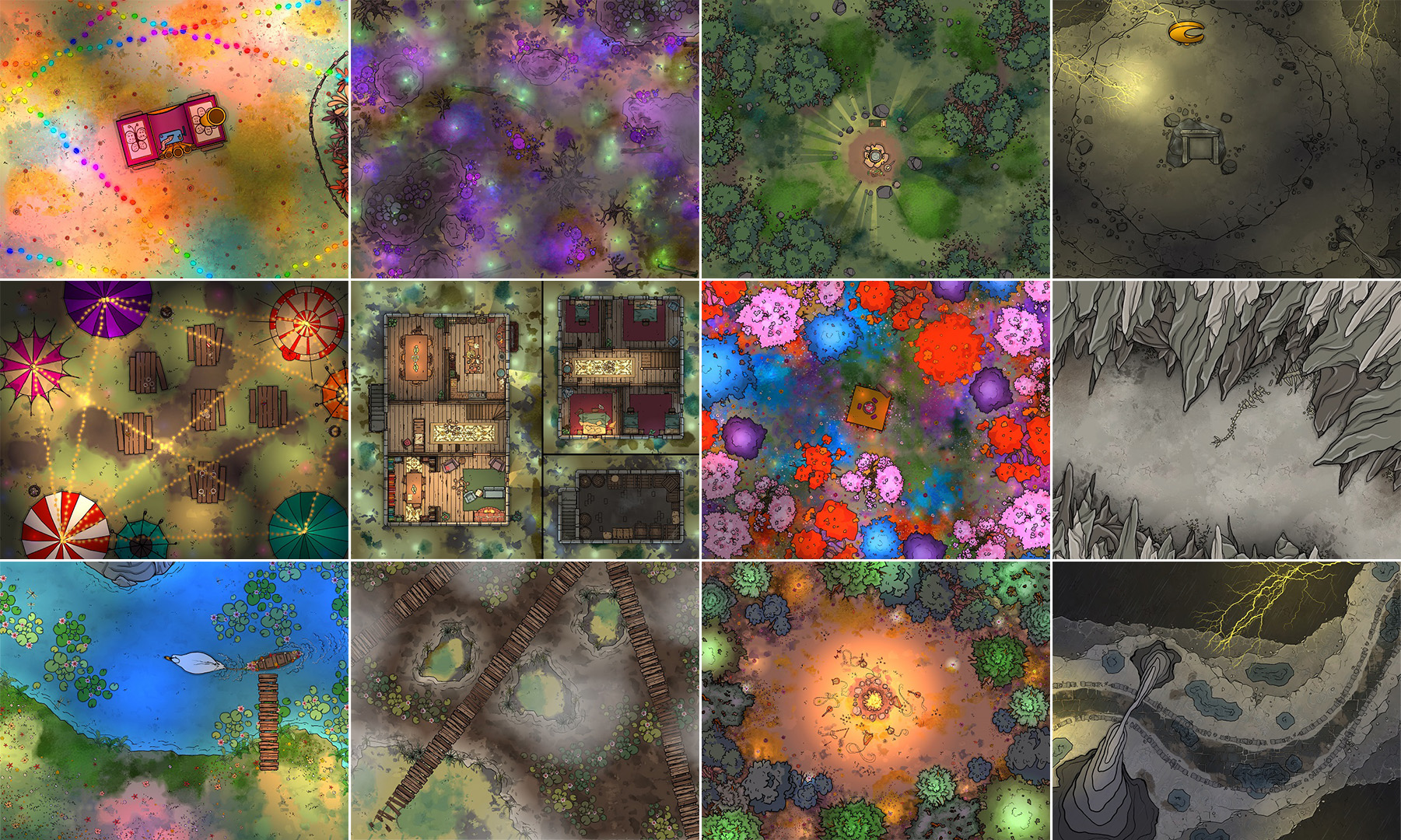 With everything from VTT-ready Feywild maps, to Printable Witchlight Maps, Tessa has everything you need to make your The Wild Beyond the Witchlight campaign a magical experience.
The bundle includes the following:
80 maps for The Wild Beyond the Witchlight available in multiple formats.
Printable PDF 8.5×11 Letter sized
Printable PDF 11×17 Tabloid sized
Printable PDF A3 sized
100ppi JPG images with grid
100ppi JPG images without grid
100ppi dd2vtt files without grid
dungeondraft_map and asset files
Tessa's 80 Maps for The Wild Beyond the Witchlight are available on DMsGuild.
See it in action as we run The Wild Beyond the Witchlight in our Monday Dungeons & Dragons livestream.
The Wild Beyond the Witchlight
Tessa has got a map for every location in the campaign that does not have a published map is included, as well as 21 bonus maps.
Detailed. All maps have a high level of detail, whether it is the furniture, personal effects, footprints, debris, weather, or lighting.
Specific. All described details are included in the maps, where they are applicable from a top view.
Versatile. All maps are available in multiple formats including a Universal VTT format that can be imported into several popular virtual tabletops with the lighting, walls and doors intact. The original mapping files are included so that you can make changes for your own campaign.
Useable on your tabletop. All maps are printable with a 1-inch grid onto multiple pages which can be joined to create larger maps.
Looking for more Dungeon Master resources? Comment below with your favourites, or check out our list here.