As part of the Game Club Podcast we want to know which games YOU want to play or hear us discuss. Next up we've got some indie darlings you've requested.
Next Time on Game Club….
 Undertale, Evil Genius, or XCOM: Enemy Unknown
Fans in our Facebook group and through Twitter have recommended some games to choose from. Each with very different themes.

Sorry, there are no polls available at the moment.
(CLICK HERE IF YOU CAN'T SEE THE POLL)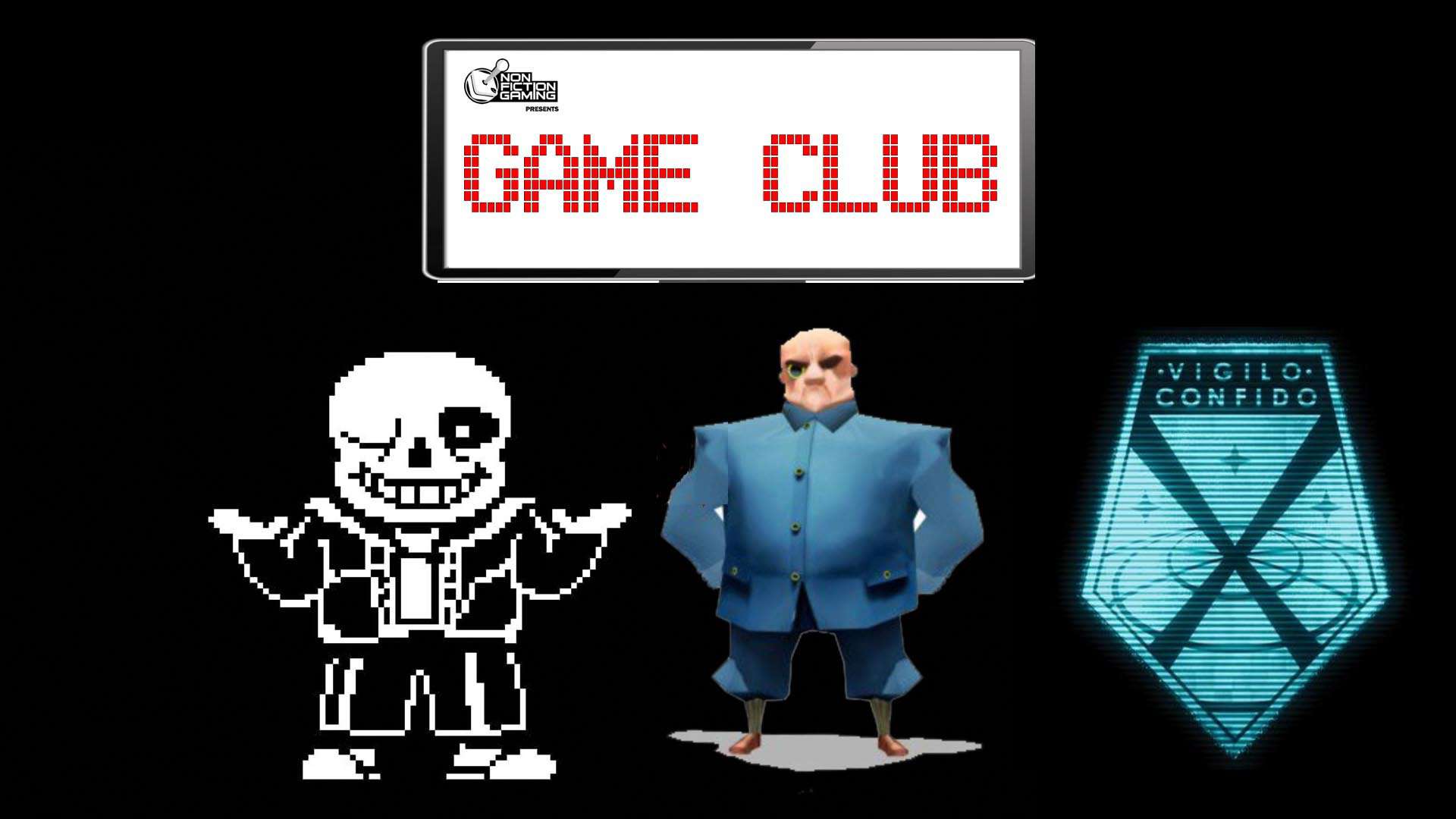 Undertale
Welcome to UNDERTALE. In this RPG, you control a human who falls underground into the world of monsters. Now you must find your way out… or stay trapped forever.
Killing is unnecessary: negotiate out of danger using the unique battle system.
Undertale is a role-playing game where you don't have to kill anyone! Undertale was created by Toby Fox and was released on September 15, 2015. The demo can be downloaded and played from the official site for free, and the full game can be bought on Steam.
Evil Genius
Everybody wants to rule the world! Achieve global power with EVIL GENIUS, the one and only complete world domination simulator. All the everyday tasks of the deliciously wicked mastermind are available to experience and master from building your ultra-secret base to developing spectacular super-weapons to carry out your nefarious master plan. How evil are you?
Choose from 3 notorious Evil Genius characters to serve as your icon and represent you in your quest for power.
Create the ultimate doomsday device and use it to achieve total global domination.
Create your lair with over 300 items including kung fu academies, rocket caverns, and laboratories.
Use ingenious traps and wicked 'interrogation' devices to toy with and dispatch obnoxious overdressed government agents.
Manage your minions as you train them in treacherous trades such as experimental research programs, heavy weapons usage, and international sabotage.
Recruit dastardly henchmen to patrol your base, take out your enemies, and undertake outrageous missions to increase your power and notoriety.
Evil Genius is a single player real-time strategy and simulation video game developed by Elixir Studios and published by Sierra Entertainment, released on September 28, 2004.
XCOM: Enemy Unknown
XCOM: Enemy Unknown will place you in control of a secret paramilitary organization called XCOM. As the XCOM commander, you will defend against a terrifying global alien invasion by managing resources, advancing technologies, and overseeing combat strategies and individual unit tactics.
The original XCOM is widely regarded as one of the best games ever made and has now been re-imagined by the strategy experts at Firaxis Games. XCOM: Enemy Unknown will expand on that legacy with an entirely new invasion story, enemies and technologies to fight aliens and defend Earth.
You will control the fate of the human race through researching alien technologies, creating and managing a fully operational base, planning combat missions and controlling soldier movement in battle.
Key Features
Strategy Evolved: XCOM: Enemy Unknown couples tactical turn-based gameplay with incredible action sequences and on-the-ground combat.
Strategic Base: Recruit, customize and grow unique soldiers and manage your personnel. Detect and intercept the alien threat as you build and expand your XCOM headquarters.
Tactical Combat: Direct soldier squads in turn-based ground battles and deploy air units such as the Interceptor and Skyranger.
Worldwide Threat: Combat spans the globe as the XCOM team engages in over 70 unique missions, interacting and negotiating with governments around the world.
Suggest Games in the comments below!