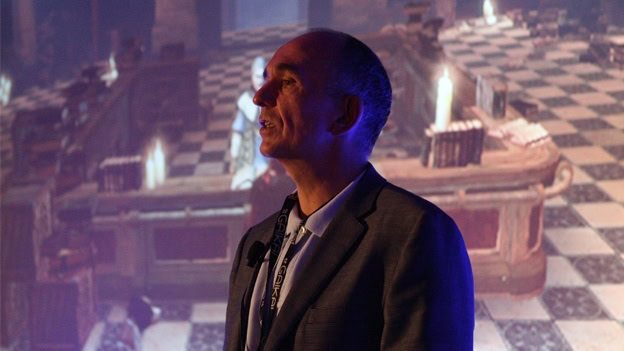 I woke up Wednesday morning to find that one of my favorite designers, Peter Molyneux, will be leaving Lionhead and Microsoft to start his own development company. While he admits the departure is amicable, Molyneux has decided to remain quiet about the specifics of the issue. He'll be leaving once he has completed Fable: The Journey.
Molyneux has created a long list of innovative games over his 30 years of developing them. His first was the 1989 PC game Populous, it broke new grounds as one of the first god-games for PC and a template for many other real-time strategy games. He soon moved on to Lionhead Studios where he developed both the God game Black and White and, most recently, the morality-based RPG series, Fable.
For all of his talented creation skills the 52 year old game designer has always had one fatal flaw: over-hyping his games. The man is one of my favorite developers, but his hype had me walking away from the first Fable in mild disappointment. It was still fun and a completely new experience in gaming for me. But when I hear I'll be playing in an open-world, Molyneux, I want to be playing in an open world not narrow zones.
Molyneux has done this with most of his games; the Fable series, as mentioned above, being one of his bigger offenders. While he personally admitted that he plugged both Fable and Fable II, he instead learned a different lesson about game journalists. In an interview a couple of years ago originally in Retro Gamer Magazine he had made the following statement:
"When I did Fable I learnt a real lesson about talking to journalists. With Fable and with Black & White I really was just actually being a designer at this point. Saying 'imagine we're going to have this game feature, and it's going to do this and this is why we're going to have it and why it's important'.
 And of course the poor games journalist writes down all these things and it comes across as 'oh my god, it's going to be amazing' but really they were just words because a lot of the time with Fable and with Black & White I was actually talking I wasn't really demo-ing."
Now to me this sounds mildly like he thought that journalists were misinterpreting him. While this definitely does happen, for the most part we report those bits of information because, well, we're journalists and that's our job. We report that information because it's useful for the game were reporting on. If he honestly wasn't demo-ing those features than he shouldn't have said anything about those features in the first place.
But over the past few years Molyneux has been holding his tongue a little more on the new games he's been working on. So far. His new company, 22 Cans will be independently run by him so maybe he'll be able to produce more legitimate games that won't be over-hyped. But admittedly this could also mean the opposite. Either way, I'd like to see what he has in store next. Let's just hope he doesn't blame journalists for his poor communication skills again.
Sources: joystickdivision, abandonia, kotaku