Sea of Thieves Riddles
Pirates sometimes come together into a crew to find treasure. Join our Non-Fiction Gaming crew for help with more Gold Hoarder riddle guides.
In this quick guide we'll describe where to find the grave of the Excavator on Thieves' Haven in Sea of Thieves – a large multi-level island with a cove. There are quite a number of places to dig here so read on for information on how to find the Excavator's Grave, Shattered Bridge, and Turtle Rock.
Thieves' Haven hides a secret wonder, a hidden stash of glinting plunder
Let's head to Thieves' Haven, the island mentioned in the riddle is on the border between quadrants P-24 and P-25.
When you get there, you'll have to decide if you take the risk of going into the cove itself. Do not attempt to get there on your own – you'll need at least one other crew-mate to man the sails and plug the holes in the hull.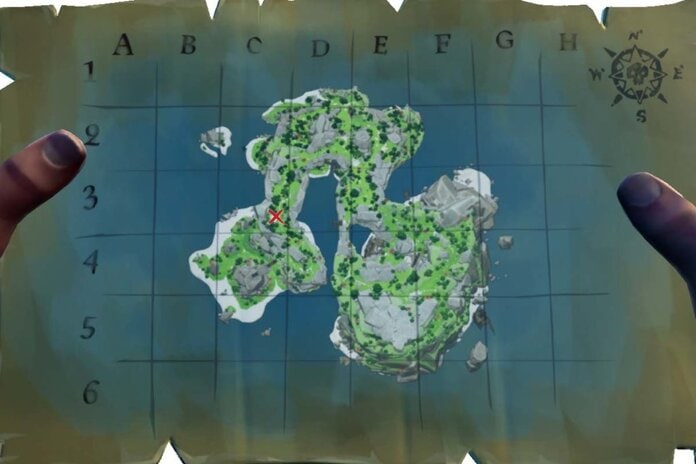 To the excavator's grave up high to the West now ye need to tread, a secret shown when this map is read.
The video starts with us having dropped anchor and coming in from an external beach. Head on up the mast of the shipwreck to get on top of Thieves' Haven. On the west side you'll find the Excavator's Grave.
At the Shattered Bridge across Haven Arch a clue may come along, if ye play a raucous song.
Now we're looking for the Shattered Bridge in Thieves' Haven. From the Excavator's Grave we go South East to the point where the Arch is (D4 in the map above).
Here you'll find the Shattered Bridge, don't worry it's quite stable. Stand on it and play some music.
Walk to Turtle Rock up high to the East then honest toil,7 paces South East, your well-earned prize lies beneath soil
At (5:03) in the video you can see us reach Turtle Rock. We continue across the Shattered Bridge almost directly East as the crow flies from Excavator's Grave.
The rock has a painting of a Turtle on it, some lines and a triangle. Follow the paces instructions on your riddle and start digging. Be ready for a skeleton ambush!