Today Bethesda revealed details for the first three Fallout 4 DLC packs along with some other interesting details. Plans for more add-ons, plans for additional content, free updates, mods, and more.
Fallout 4 DLC Packs
The three packs announced, Automatron, Wasteland Workshop and Far Harbor should be landing one a month starting in March this year. Each DLC pack looks to tackle a different area of customization in Fallout 4 and will hopefully expand the playability of
"Since Fallout 4 launched, we've been blown away by your support for the game. It stands as our most successful title ever and that couldn't have happened without you. It's been truly inspiring, the stories, images and experiences that you've created. And now it's time to share with you some of what we've been creating – our first series of add-ons: Automatron, Wasteland Workshop and Far Harbor."
Automatron
Price: $9.99 USD
Release:  March 2016
More weapon mods and the ability to build (and mod) custom robot companions looks like it could be fun. Going from the picture supplied you can get quite a big robot monstrosity to follow you around, I wonder what kind of trouble it will be
The mysterious Mechanist has unleashed a horde of evil robots into the Commonwealth, including the devious Robobrain. Hunt them down and harvest their parts to build and mod your own custom robot companions.
"Choose from hundreds of mods; mixing limbs, armor, abilities, and weapons like the all-new lightning chain gun. Even customize their paint schemes and choose their voices!"
As the first Fallout 4 DLC to drop, Automatron doesn't seem to have much in the way of new quests and areas. At least from the brief announcement, it looks like it'll mostly be weapon mods and a custom companion.
Wasteland Workshop
Price: $4.99 USD
Release: April 2016
The second Fallout 4 DLC we can expect this year is Wasteland Workshop, additions to Fallout Settlements including creating your very own Death-Battle ring.
Commentators have pointed out that the Fight-Club style area 'The Combat Zone' in Fallout 4 was quite lacking and didn't match up to expectations set by the E3 trailer. Perhaps it was still a work in progress upon launch and Bethesda has bundled it into DLC.
With the Wasteland Workshop, design and set cages to capture live creatures – from raiders to Deathclaws! Tame them or have them face off in battle, even against your fellow settlers.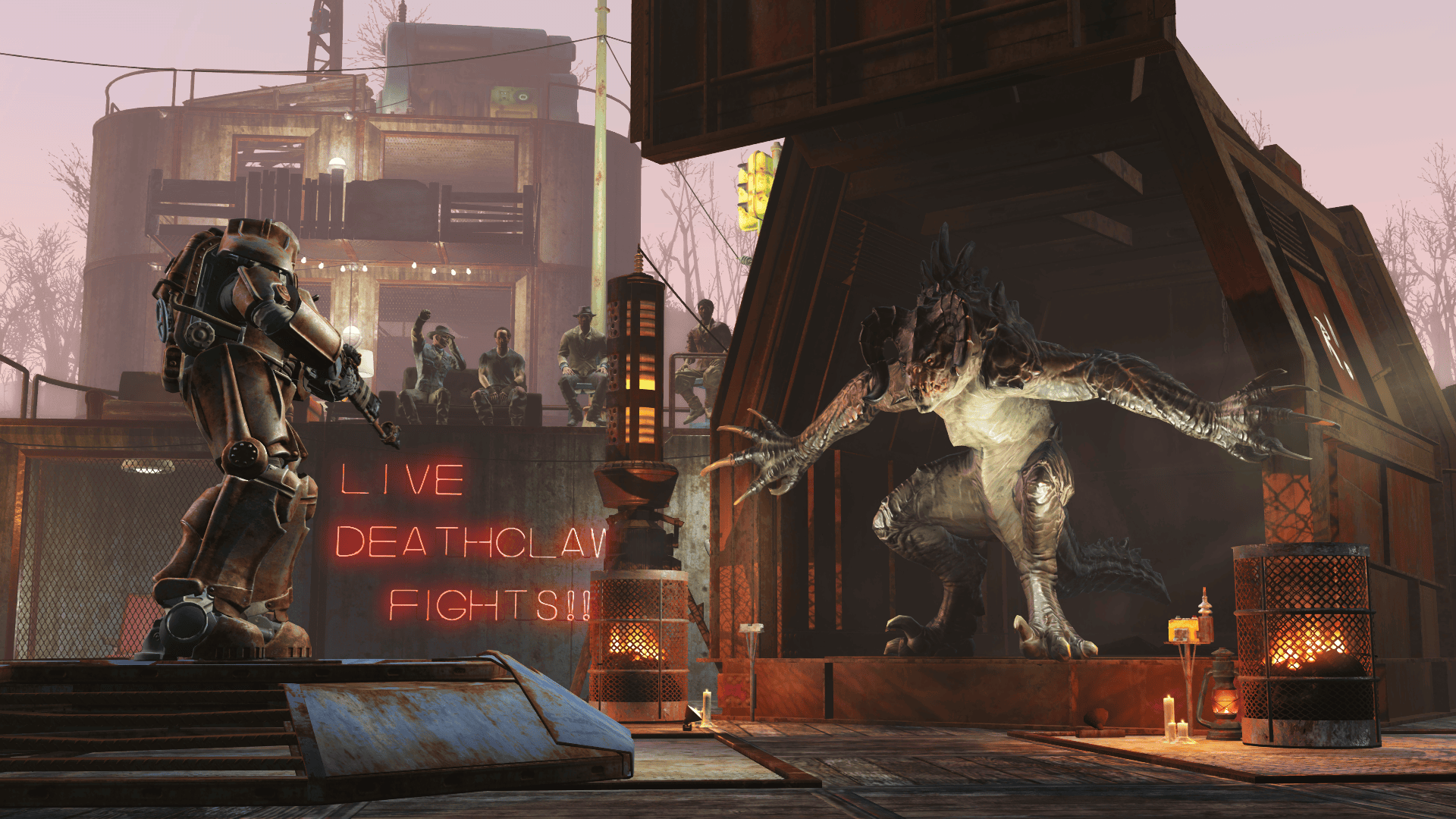 The Wasteland Workshop also includes a suite of new design options for your settlements like nixi tube lighting, letter kits, taxidermy and more!
While creating a Thunderdome to entertain settlers is all well and good, the new suite of design options for settlements will be welcome. Settlements can be a bit unwieldy to design and often look drab, though some mods have made this process better. At half the price of the Automatron, I wouldn't be expecting too much though.
Far Harbor
Price: $24.99 USD
Release: May 2016
Here's the Fallout 4 DLC we're looking for, a new area and quests to uncover for everyone's favourite Synth-Detective Nick Valentine. Or at least through Valentine's Detective Agency, you'll get a new town to explore and some NPCs to interact with.
Here's hoping there's more to Far Harbor than 'KILL, LOOT, RETURN'
A new case from Valentine's Detective Agency leads you on a search for a young woman and a secret colony of synths. Travel off the coast of Maine to the mysterious island of Far Harbor, where higher levels of radiation have created a more feral world.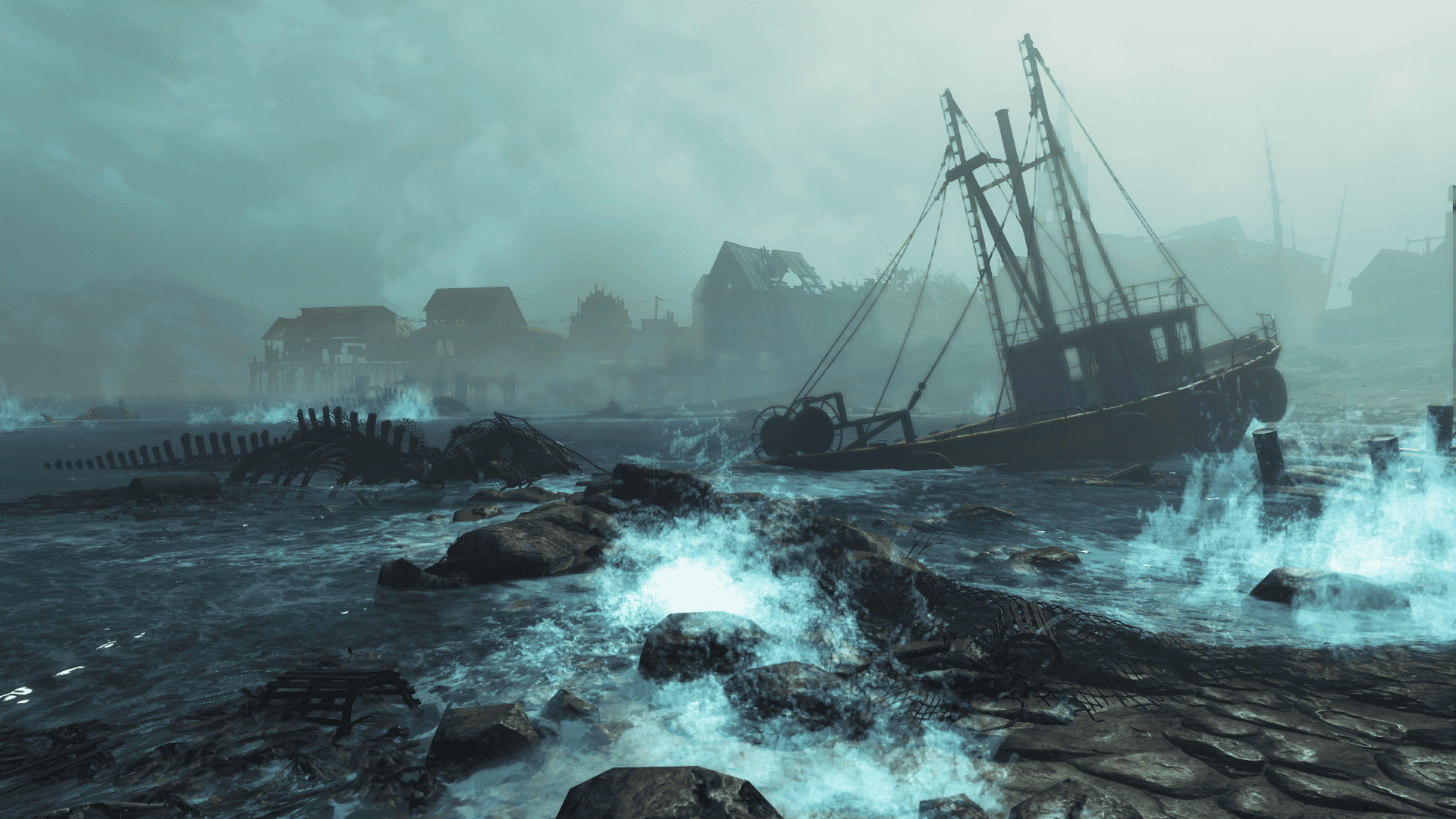 Navigate through the growing conflict between the synths, the Children of Atom, and the local townspeople. Will you work towards bringing peace to Far Harbor, and at what cost? Far Harbor features the largest landmass for an add-on that we've ever created, filled with new faction quests, settlements, lethal creatures and dungeons.
Become more powerful with new, higher-level armor and weapons. The choices are all yours.
Higher-level armour and weapons sounds great, though I'm pretty sure once you've hit a certain level in Fallout 4 you don't really need to worry about what you're packing.
More Fallout 4 DLC Planned
And more important, this is only the beginning. Bethesda has announced plans for more.  More than $60 worth of new Fallout adventures and features throughout 2016.
Fallout 4 Season Pass Price Change
Given the expanded DLC plan, the price of the season pass will increase from the current $29.99 to $49.99 USD on March 1, 2016. However, if you already purchased the season pass for $29.99, nothing changes – you still get everything at no additional cost— the full $60 offering of add-on content for the original price of $29.99. In addition, if you didn't buy the season pass yet, there is still time:
Anyone who buys the Season Pass for $29.99 before March 1st will get all $60 worth of content.
This is our way of saying thanks to all our loyal fans who have believed in us and supported us over the years.
Beta for Fallout 4 DLC?
Want a chance to play these add-ons early? We'll be running closed betas for each of the add-ons for consoles and PC. And you can sign up right now on Bethesda.net. In order to apply, you'll need to create a registered Bethesda.net account.
We'll be selecting applicants in the upcoming weeks. Players accepted into the beta will receive a code to redeem the content. The beta is the full version (complete with achievements) and those participating will not have to purchase the add-on.  
Updates to Survival Mode
Beyond add-ons, we'll continue to offer free updates to the game, including new features like the recent weapon debris for PC, and increased draw distances for consoles, as well as more optimizations to gameplay and quests.
And something that we're really excited about, a complete overhaul of Survival Mode that changes how you play the whole game. Food, sleep, diseases, danger and more.
We're also hard at work on the Creation Kit, which will allow you to create and play mods absolutely free. We're currently testing both Survival Mode and the Creation Kit now, and more details will be forthcoming.
All in all these announcements and updates are welcome, Fallout 4 is still a widely played game that is regarded by many of the Non-Fiction Gamers as their Best Game of 2015.
What do you think of these announcements? Let me know in the comments below.