Fictional terrorist attack in Singapore posted in the lead-up to Call of Duty: Black Ops III release.
Activision posted a series of tweets on Tuesday suggesting it was live reporting a terrorist attack.
The series of messages, which were fictional to promote their latest game but not marked as such. The tweets set up the framework of events to feature in upcoming shooter Call of Duty: Black Ops III. Shared via the official Call of Duty Twitter account, the posts began with reports of an explosion in Marina Bay, Singapore.
The source of the explosion was reported to be at Coalescence Corporation, a fictional company that is featured in the Call of Duty: Black Ops III "Ember" teaser.
The tweets went on to state that Singapore Authorities had announced an official state of emergency, and declared martial law. The final post in the series of tweets read, "This was a glimpse into the future fiction of #BlackOps3."
The tweets confirmed a character named James Chung will be tied to the game in some way as commander of the Singapore Armed Forces. A second Twitter account titled "TheUnMarkedMan" posted conspiracy-theory style speculation in response to the tweets, further teasing story elements in the upcoming shooter.
Read on to see the full tweets and how they unfolded.
How Call of Duty's "attack on Singapore" unfolded:
1803: Fictional news network "Current Events Aggregate" sent out a breaking news tweet about "unconfirmed reports" of "an explosion" in Singapore's marina,exciting some gamers on Twitter while confusing others.
1814: "Emergency teams" began to converge on the area.
1821: Another update followed, confirming that the explosion took place at the "Singapore Research Laboratories" facility.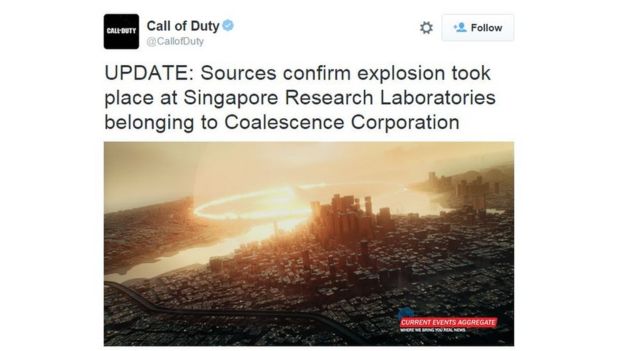 1852: Chaos ensued, causing major traffic jams around the city centre. This led to a "state of emergency" and the Singapore authorities declaring martial law.
1944: Military drones and riot police descended upon Chinatown to control the crowds.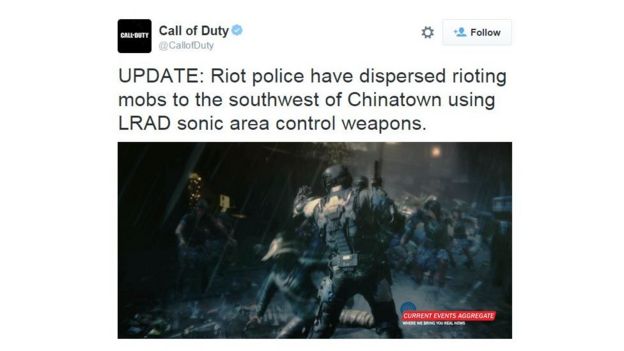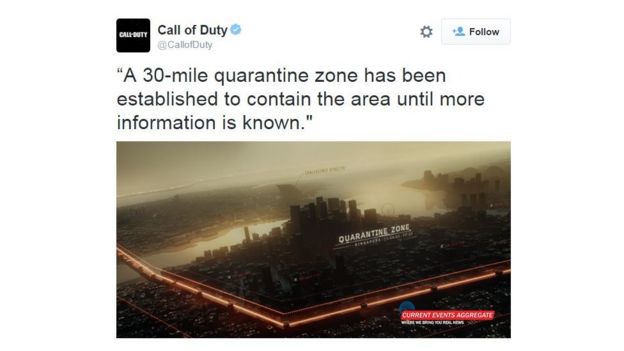 2005: The "Singapore army" released a series of statements on the ground, establishing a "30-mile quarantine zone" and calling for citizens to remain in their homes. "There have been no claims of responsibility from any terror organization," it added in a tweet.
2035: Fictional army commander James Chung, also declared that martial law would "remain in place" until the incident was "firmly understood".
2237: The series of live tweets ended with an official message: "This was a glimpse into the future fiction of #BlackOps3"
What are your thoughts on a social media campaign trying to look like a 'real' news network and posting about terror attacks?