Update 2: GTA V has released on PC and is available through our friends at GameFanShop. You can get 15% (And help Non-Fiction Gaming) By using the coupon code NFGLIVE.

Update: Rockstar Games have pushed back the release date of GTA V PC release to April 14th 2015
A petition to Rockstar asks for a GTA V PC release, a Reddit user claims to be Beta Testing a PC build already with supporting screenshots. Rockstar keeps tight lipped as per usual.
Console gamers have given Grand Theft Auto V a massive opening weekend. With an estimated development cost between 100-200 Million, GTA V has reportedly brought in more than $800 Million in the first week.
'Elitist' PC gamers feeling left out in the cold have little to do but twiddle their thumbs and sign a petition. There has traditionally been a 5-8 month gap between console and PC releases from GTA III onwards.
Toronto gamer, Mike Julliard is tired of waiting and has launched a petition requesting Rockstar to bring out the GTA V PC Release as soon as possible. The petition already has over 540,000 signatures at the time of writing and continues to grow in popularity.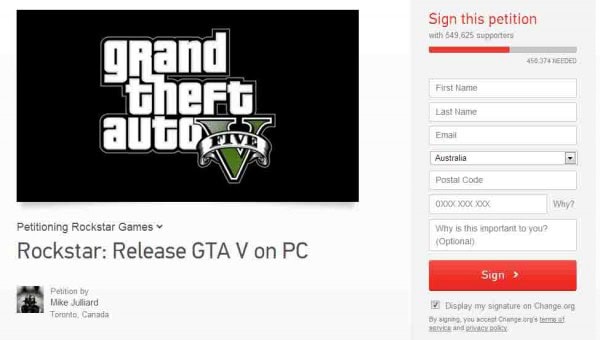 The petition itself touches on PC being the most powerful platform and the power of modding that has gone along with it in the past.
In August this year, Ubisoft bowed to public interest to have Tom Clancy's The Division release on PC, having originally only slated it for an Xbox One and PlayStation 4 version.
Speaking of a GTA V PC release, Reddit user DevBuild claims to have leaked images of a GTA V PC Beta build. Without an official comment or any proof we can only assume this is someone looking for attention. But just in case, here are some of the pictures.
We asked Rockstar if they had any comment regarding a GTA V PC release, the petition and the alleged 'DevBuild' tester but they haven't responded.
Be sure, if you haven't already; check out the GTA V Official Trailer. See what features are available through GTA Online. GTA V is currently available on Playstation 3 and Xbox 360.
Have you had a chance to jump into the world of Los Santos yet or are you waiting for a GTA V PC release? Let us know in the comments below or on our Facebook Page.