This Sponsored Post supports Non-Fiction Gaming and helps keep the lights on. If you'd like to learn more about the different ways you can support us, check out this page.
Just as popular sports like Tennis and Football have made their way onto consoles, many casino games that have been made popular in brick and mortar casinos have also found themselves adapted to be played at an online venue.
Online casinos have made significant developments in recent years at fine tuning these games to make them even more appealing and realistic. In doing so, there also have been additional adaptations made to these games which have created new versions of classic casino games.
Roulette
Roulette is a casino game that uses a spinning wheel. The game, Roulette Royale, has added an additional feature to the game which is a progressive jackpot. When playing this game the player must also make this side bet; it is not optional. The bet is only a dollar and the jackpot is activated if the same number is landed on five times in a row. This creates another interesting aspect to the classic casino game of roulette.
Joker Poker
For those who enjoy the game of poker, video poker games are popular. With many variations, players have a lot of choice. For example, they may opt to play a game known as Joker Poker. In this game, the joker card works as a wild card and can be used to help form any winning combinations. The top payout with this online casino game is 5000 coins. This is won with a natural Royal Flush. This means the Royal Flush hand cannot use a wild card to form it.
Slot Machines – Eagle's Wings
Players may also choose to play slot machines at Gaming Club. A popular one right now is Eagle's Wings. This slot machine revolves around the eagle along with other related associations. This would include salmon and the American Indians.
This game features beautiful graphics that make up the animations. The game is a five reeled slot machine with a total of 25 paylines. When a player gets three of more of the Lucky Eagle Coin symbols, the free spin bonus round is triggered which provides more opportunities to increase one's winnings.
Poker Night at the Inventory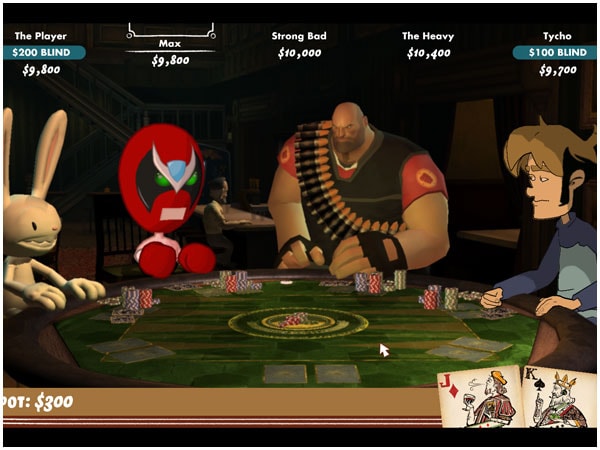 Poker Night at the Inventory is a poker video game developed by Telltale Games. It features four crossover characters: Tycho from the Penny Arcade webcomic, Max from the Sam & Max franchise, the Heavy Weapons Guy from Team Fortress 2, and Strong Bad from the Homestar Runner web series.
Each player starts with a $10,000 buy-in and stays in the game until they are broke, with the goal of the player being the last player standing. The game uses no-limit betting and a gradually-increasing blind bets over the course of several rounds. Randomly, one of the four non-playable characters will not be able to front the money but will offer one of their possessions as buy-in for the game.
Poker Night is available through Steam.
Are there other popular casino games you've seen enter the video game space? Let us know in the comments below.