Papers Please. Have your documents ready. Game Club steps into the border checkpoint in this dystopian document thriller.
Will the team stick to the Glory of Arstotzka? Or will they undermine the regime from within. Join us on the ninth episode of the podcast and check you've got your papers.
In this Episode – Papers Please
Intro – 0:00
Nerd Week – 0:34
Gaming News – 13:20
Papers Please Discussion – 28:13
Game Recommendations – 58:24
Quiz – 1:02:29
Next Week on Game Club – 1:08:34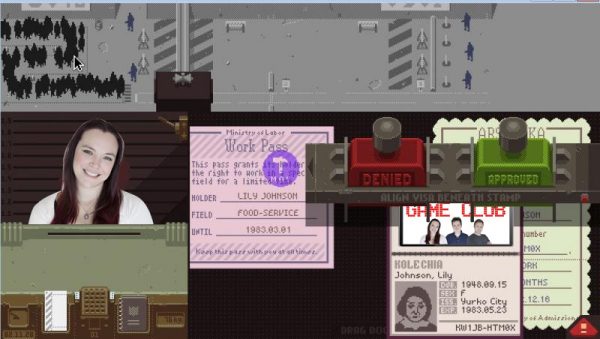 Papers Please is Available From:
Nerd Week
Catherine – Played Mysterium (was ghost)
Charles – Board Game development, X-Wing, watched SNOWPIERCER
Daniel – Running D&D games for AGPN, Watched Wonder Woman with Emma,
Gaming News
Daniel – 
Charles
Catherine
About Papers Please
Genre: Adventure, Indie
Developer: 3909
Publisher: 3909
Release Date: 9 Aug, 2013
Papers Please Discussion:
Listener's Comments
Anthony Murphy Jorji Costava is the best character. Every time he pops up I want to let him in, even though it costs me a mistake. I love his home made passport. Arstotzka the best!
Matthew Callus A very slow and ominous game when you first jump in, but once you get the hang of it, pace picks up & the satire is very well done.
Game Recommendations
Catherine –
Daniel
Charles
Reach out to Game Club on Twitter:
Next Time on Game Club: Dream Daddy: 
Dream Daddy: A Dad Dating Simulator is a game where you play as a Dad and your goal is to meet and romance other hot Dads. You and your daughter have just moved into the sleepy seaside town of Maple Bay only to discover that everyone in your neighborhood is a single, dateable Dad!
Will you go out with Teacher Dad? Goth Dad? Bad Dad? Or any of the other cool Dads in this game? With minigames, sidequests, and a variety of paths and endings, Dream Daddy: A Dad Dating Simulator is this year's most anticipated Dad-based game.
Title: Dream Daddy: A Dad Dating Simulator
Genre: Casual, Indie, Simulation
Developer: Game Grumps
Publisher: Game Grumps
Release Date: 13 Jul, 2017
We'd appreciate your thoughts on it in the comments below or in our new Facebook Group