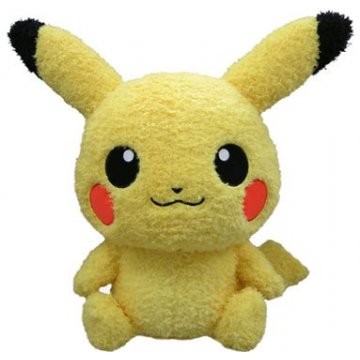 The Pokémon Company has announced a partnership with Build-A-Bear Workshop today to bring everyone's favourite electric mouse Pikachu to stores. Starting in early 2016, Pokémon trainers and lovers of soft toys alike can visit the create-your-own-stuffed-animal retailer to pick out and fill up their very own Pikachu plush.
The Build-A-Pikachu (not its real name) comes with a limited edition, Build-A-Bear-branded Pokémon trading card for you to keep as a memento of the first time you met your new best friend. An additional Poké Ball hoodie accessory will be available to buy and outfit your starter Pokemon, though we all know Pikachu doesn't like getting into a Poké Ball a hoodie is always fun and comfy.
Build-A-Bear Workshop offers customers to pre-stuff your doll online, so if you're not the type to stand around in a shopping mall doing the very public, "kiss its heart and spin in circles" process of stuffing Pikachu yourself. For those who choose this route, a sound clip will be included inside of your plush, along with the hoodie and a second Charizard costume.
There's no official date yet for the official Pikachu Build-A-Bear, but fans longing for cute Pokémon plush can fork out over $100 for the Pokémon Mokomoko Plush 2L: Pikachu if they're super keen. I'll even be heading to Japan early next year to keep an eye out for what Pokémon apparel, keychains and more are available from the Japanese Pokémon Center store.