Hell Hath No Fury
Moxxi once ran a deadly competition known as the Underdome. Unfortunately, after she cheated on Handsome Jack, he decided to burn it to the ground. But, Moxxi recently caught word that Hyperion has been building a new Underdome in Opportunity. She isn't about to let this happen in Hell Hath No Fury.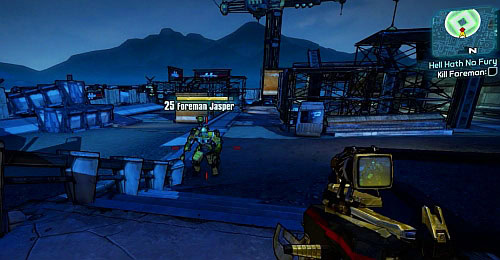 [guides.gamepressure.com]
Head to Opportunity and head for the southern corner of the city where construction site is placed. There, you will find Foreman Jasper. Take out the armored engineer with a corrosive weapon and a key will drop from his body. Pick up the key and as Moxxi tells you over the ECHO "every key has a hole it fits into," get it? Alright, well sexual innuendos aside, Head to the southern most tip of the map to find Jasper's storage container use the key to open the container. Inside you'll find a couple of high grade explosives and Moxxi has an excellent idea for them: place them on the dam and flood the construction site.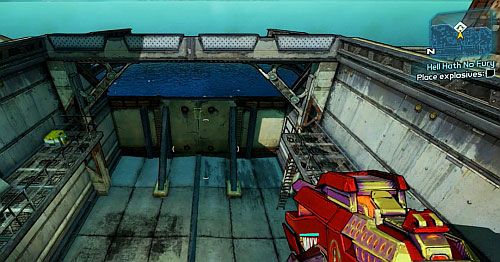 The dam isn't far from the container, but you will need to fight off some Hyperion loaders and a constructor to get to it. Once you find it climb down and place the explosives on the gate. Climb up the ladder you came down to get out of the blast range. The wall comes down and the entire construction site becomes flooded. With Hyperion pissed, Moxxi calls you on back.
Nice job and enjoy your rewards.
Hell Hath No Fury REWARD:
Item: grenade mod
Experience: 4934