LEGO CITY Undercover: The Chase Begins to be released on Nintendo 3DS 26th April.
With the Wii U exclusive LEGO CITY Undercover – launching the other week, players may take on the origin story of Chase McCain. From modest beginnings as a rookie cop, fresh out of the police academy, to diving headlong into the criminal underbelly of LEGO CITY.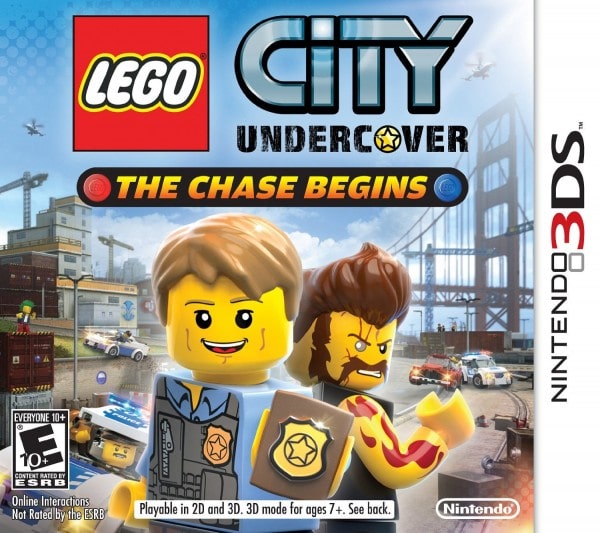 Developed by TT Games, LEGO CITY Undercover 3DS is set two years before the events of LEGO CITY Undercover on Wii U, and charts the rise of Chase McCain as he gradually earns his revered status within the LEGO CITY Police Department (LCPD), headed up by Chief Gleeson and Deputy Dunby. Progressing from the humble beginnings of solving petty crimes to infiltrating the meanest gangs on the streets of LEGO CITY, Chase McCain soon encounters one gang headed up by a muscular crook who the rookie will come to know well throughout his career – Rex Fury!
What is being seen as the LEGO version of GTA or True Crime (but safe for kiddies) should be no surprise to LEGO fans after LEGO versions of Pirates of the Caribbean, Star Wars, Batman and more.
As an emerging undercover investigator learning the art of disguise, Chase McCain will need to adopt a variety of disguises – including a fireman, a robber, a construction worker and a miner – in order to blend into his surroundings. With this in mind, and beginning the week after the launch of the game, Nintendo of Europe will be releasing unlock codes for extra Chase McCain costumes on its Nintendo 3DS Facebook and Twitter accounts, including a mime artist and a zombie, to ensure Chase can remain anonymous wherever he goes!
Within the game you have the chance to collect over 70 mini figures that are assigned to the different disguise categories, opening up the possibility to play as some of the more unusual characters of LEGO CITY.
As part of the post-launch offering, Nintendo of Europe will also be releasing on social media an unlock code for a very handy vehicle to call upon when criminals are making a hasty retreat. Once unlocked, vehicles are available at Vehicle Call-in Points located around LEGO CITY, but for Chase a set of wheels is never far away, with over 50 different vehicles available to commandeer. Pesky criminals are not even safe whilst airborne or at sea, as speedboats and helicopters will become available as the storyline unfolds.
For the launch of the recent LEGO CITY Undercover on Wii U, Nintendo of Europe launched a series of webisodes on its YouTube channels for fans to get acquainted with the key players in the plot to fight – and commit, in the case of Rex Fury and other villains – crime in LEGO CITY. With LEGO CITY Undercover: The Chase Begins acting as a prequel to this tale, Nintendo will be releasing another series of webisodes for all Nintendo 3DS owners to check out what lies in store in this earlier chapter of the LEGO CITY saga.
We asked our staff which franchises they would like to see made into a LEGO game, take a look at the responses here. If you're looking for more handheld games, why not kick it Retro with the MacWha's Top 5 Gameboy games list.