Saturday 26th May saw the coming together of the very best in iOS mobile app development from around the globe. The conference held at the Melbourne Exhibition centre consisted of 11 speakers who all provided a deep insight into their personal successes within the iOS market.
The conference being in only its second year showed no signs of teething issues with the running of a smooth day. Speakers transitioned fairly effortlessly with the assistance of an MC as the audience were treated to creators of apps in both the productivity and gaming areas. The speakers put together well thought out and creative slides that spoke of their development journeys, free of any technical lectures.
Standout talks came from Igor Pušenjak (Doodle Jump), Shaun Inman (Last Rocket), Julian Lepinski (Pano), Raphael Schaad (Flipboard), and Matt Rix (Trainyard). Needless to say the caliber was high. Most of these guys have being there right from the beginning when the iOS App Store first launched. So it goes without saying, the audience hung on every word they had to say.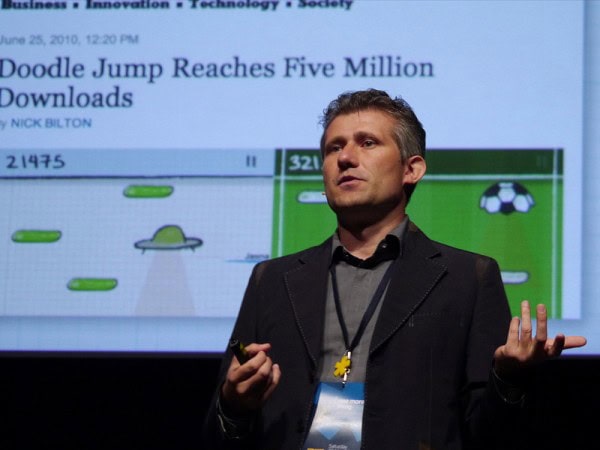 There were varying opinions from all the speakers but it became prevalent that there were a number of common themes:
iOS Dominance
Being an iOS conference it may come of no surprise, to hear all speakers agree, that the Apple iOS market is where it's all at. This is in terms of monetary gain in app development. Pušenjak said it bluntly in that "there is no money in Android". Wong from Tapatalk supports the Android market but claims that there is great difficulty in supporting over a thousand devices. Most speakers agreed that they would never develop an application for the Android market in order to generate sales. Dave Howell (Air Display) said it best during the Q & A session that you would only go into Android to improve branding.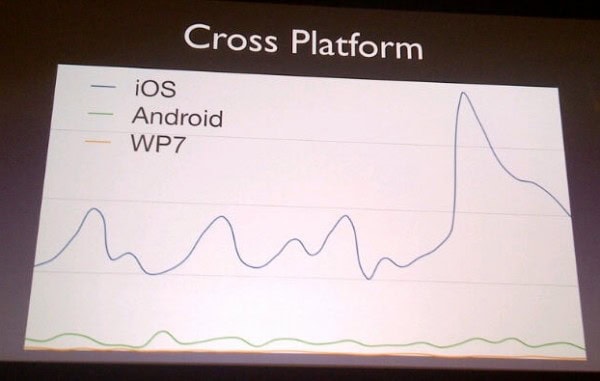 Strategy
I'm just waiting for someone to write a strategy guide and collate all the gems of information that have being discovered in the last few years in the app market. Alas, the industry is still young, and perhaps that's what is the most exciting about it; discovering all these things out for yourself. Below are a few of these ideas.
The first strategy that all speakers agreed on was that of cross-promotion. For example Doodle Jump teamed up with Pocket God in which each character featured in the others' game. Kepa Auwae (Hook Champ) who has developed a number of games, recommends using your old games to promote your upcoming new games.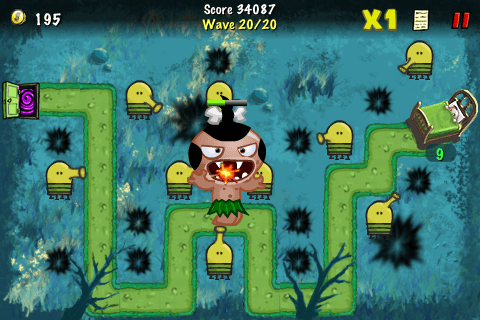 Pricing was an interesting topic that divided many on the day. Starting from the basics it was clear everyone agreed that the higher the price the higher the quality of product. For example the $2.99 app's compared to the 99c apps. The issue that caused the most division was whether bringing out a 'lite' version was ever worth is.
For Adam Kirk  (Calvetica), when they released their lite version it was ineffective and did not help generate sales. Conversely, Matt Rix had issues with anyone noticing his paid version of Trainyard. He released an "express" version with 60 puzzles all different from the full version so that people could simply not ignore it. His persistence paid off with sales now standing in around 800,000 paid and 4.3 million express.
How to market your app was discussed by almost everyone and the importance of social media could not be emphasised enough. Additionally, all devs stressed the bearing that being responsive to customers could have on your app and business. All of them replied to customers concerns and queries as they aimed to build a strong user base.
I feel like I have only tipped the ice-berg with some of the strategies that were discussed on the day as there are so many topics I have not even touched on.
Positive "chi"
The real value of a conference like this one, is to reaffirm that the ridiculousness of your outlandish idea for an app is perfectly normal and worth having a shot at. It was a refreshing environment, in which mingling amongst like minded people gave the opportunity for budding developers to make some noise and not be instantly beaten with a negativity stick.
I could not recommend this conference enough for anyone who has even the slightest bit of interest in the mobile app industry. With the industry itself still very much in its infancy any words of advice from people that have succeeded should not be missed. Even if the price tag may seem a little steep, just don't eat for a month because, apart from the fact that food is provided on the day, the people you meet and knowledge you gain is something you can not put a price on.
Emma has a particular interest in educational app's and has not shut up about this conference…everyone at NFG may be attending next year! Emma also collates a number of our theme weeks such as "Liveable Video Game Worlds" where us writer's picked our favourite gaming world to live in.
Here at NFG we would love to support our local mobile application developers. If you have an upcoming app that requires some PR then please get in touch and we'll be happy to consider doing some promotional work with you. Contact us via Facebook or Twitter.