For all of you developers in England, keep an eye on Brighton for its seventh annual Develop in Brighton conference. A three-day event, starting on Tuesday 10 July, that will showcase some of the coolest upcoming games, giving fans a taste of what's to come from the gaming industry. Not to mention that this year one of gaming's most enduring audio designers will be there to discuss his intricate thoughts on the noise being created in the industry, literally.
At this year's Develop in Brighton conference, audio veteran, Stephen Root will be giving the audio keynote speech. He'll be relating experiences from his twenty-year career in the industry and explaining what has inspired him in the past and explaining what he sees as important factors in today's gaming sounds.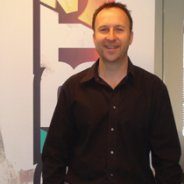 Root first began his time Acclaim working on the innovative racing franchise, Burnout. The game had you racing very similar to the style of Need for Speed and Test Drive. The tracks feature real streets with real traffic to weave around. The original game wasn't exactly praised for its sound, but still it's wild and intense racing grabbed gamers attention.
From there he soon moved on to his current development home, Codemasters. There he helped provide audio to games like racing series F1 2010 and  FI 2011, off-road racer DiRT, and the recent spin-off of FPS Operation Flashpoint. The two games are Operation Flashpoint: Dragon Rising and Red River. Neither game was praised by critics or fans, but they still provided players with some decent first person shooter gameplay.
His own methods for gaining some top notch recordings are actually rather fair and flexible. He finds individuals, either on his team or freelance audio designers he's in contact with. In an interview with Develop, Root explains that he usually finds individuals who specialize in particular sounds. Particularly with racing games he'll contact someone that knows how to get the right sound for an engine for a particular car.
In addition to Stephen Root's Keynote speech the conference will also feature conference goers can also expect to see other gaming audio designers such as Garry Taylor from Sony; Alistar Lindsay, a freelance audio sound designer and composer; and Martin Stig Anderson.
The Brighton event also includes the Evolve Conference (Tuesday 10 July) which focuses on the developing for new and upcoming platforms. Indie developers will also be able to take part in the Indie Dev Day (Wednesday 11 July), which will allow new start-ups, established developers and even students network with each other. The audio track conference will be taking place on Thursday July 12.
Stephen Root may be working the most overlooked part of a game development process, but he has also proven how essential the sounds you hear in a game are. Even if he hasn't made gaming's most innovative soundtracks the man still has experience on him that makes him one of the industry's hardest working audio designers out there.
For more information on the conference and its events, check out: developconference.com.
Sources: