In this digital day and age in which it is normal for all our Facebook friends to know everything possible there is to know about us, including our ex-boyfriend's mum's menstrual cycle, this movement has come to gaming in the form of Raptr.
Raptr was founded in 2007 and after raising a cool $12 million from investors, they launched in 2008 and have been growing ever since. Raptr operates by tracking gameplay for any individual on a number of platforms; Xbox, PSN, Steam and PC.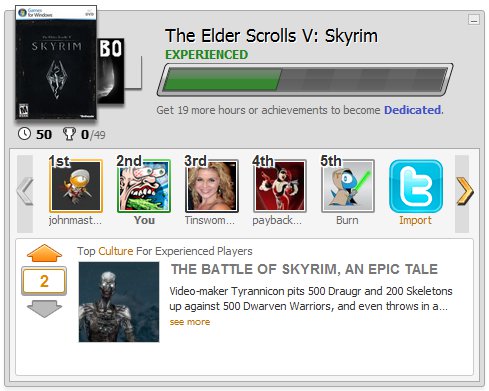 There are so many statistics that are tracked and compared to friends that it would make any achievement whore a little nervous. It has also gamified actual games if that makes any sense. Essentially, a user is given a rating per game which is based off their time played and achievements. They level up in that game and are given a ranking against other players and friends.

The application is run as either a web client, desktop application or iphone app and syncs up seamlessly with all mediums. It's just a shame that at the time of writing the desktop application will not install on my computer (FYI: I do IT stuffs for a living, I'm not a spastic).
It acts like any other social media platform in that you have your own wall. So you can do all the basic stuff except for stalk prettier and skinnier bitches because there don't seem to be many of those kinds of photos.
It's a fun looking website and I especially like that the creators genuinely want user feedback. It may sound like a strange thing to complement but I'm of the belief that there are not nearly enough start ups that listen to their users.
Overall, although there are some bugs to be ironed out it is still an impressive central hub for all things gaming.
Feel like joining Raptr.com, add Emma – kwate. She swears all those hours sunk into The Sims 3 wasn't just her. For more from Emma, check out The Rise of Downloadable Content.
Source: