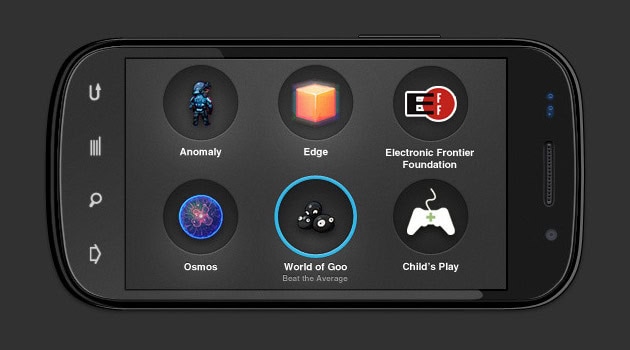 Time is running out for you to get a hold of another great deal from the team that puts together the Humble Indie Bundle. This time the games are getting mobile with Android mobile and tablet compatibility.
There is about a week left for you to buy the games that are available on multiple platforms such as Windows, Mac, and Linux as usual with the Humble Bundles. After purchase you will be provided with a link to DRM free copies of the games to download, along with a once off Steam code if you wish to launch them from Steam on PC.
Anomaly: Warzone Earth, EDGE, and Osmos are available for whatever price you choose to pay, but you'll have to beat the average ($6.08 at time of writing) to also receive World of Goo. Humble Bundle may even add some bonus games before the sale ends, anyone who purchased before they are added will receive them for free. As always, you determine how much of your payment goes directly to the game developers, the Humble Bundle website fund, and charity.
Anomaly: Warzone Earth is a new twist on the Tower Defence idea that has hit big with mobile markets. Instead of holding position and taking out lines of enemies as they throw themselves upon you walls, you now must lead a convoy through the streets keeping them alive and adapting to new enemies and strategies.
Osmos is a lush ambient game in which you play as a single-cell organism attempting to increase its mass by absorbing smaller creatures. The laws of physics provide a striking risk/reward mechanism as you eject your own mass to propel yourself through orbital systems populated by other like-minded predators.
EDGE is a speedrunner's dream, you roll your cube through abstract landscapes, you can delicately hang on adjacent walls for "edge time" that is subtracted from your overall performance.
World of Goo is one of the big  indie games to have been produced for the PC in the last few years. I have spent many hours building bridges from goo, trying to help the cute little globes escape. Haven't tried it on a Droid yet, but previously I had been sucked in to the PC version through Steam creating bouncing structures out of goo. A good gamer never leaves a goo behind.
When making the purchase, you decide how much (or how little) to support indie game developers. You can split your purchase up to allocate the funds in whatever way you want. If you don't like charities that fight for freedom and sick children, your cold heartless money can go towards the Humble Bundle team or indie developers instead. It's difficult to get out of doing at least some good in the world by making this purchase.
The non-profits sponsored by the sale of the Humble Indie Bundles include:
The Electronic Frontier Foundation (EFF), that defends your rights in the digital world. According to their material, "the world-class team of tech-savvy attorneys, activists, and technologists fight in courtrooms and Congress to protect privacy and free expression online and throughout the world."
Child's Play, a charity that provides video games and toys to children in more than 70 hospitals worldwide. Through donations of hardware along with cash,  the group organises consoles, peripherals and games to brighten up the time for children stuck in hospital.
If for some bizzare reason the addition of World of Goo  doesn't tempt you to pay more than the average, at least try to refrain from paying so little as to cost the Bundler's money on your transaction. Yes, you can buy this Humble Bundle for a mere cent, but if you do that then bandwidth costs, Paypal fees, website upkeep, and so forth will result in a loss for the Bundle Team. Don't be that guy.
Whatever you do though, show your support and let us know how you go with your new games.