This War of Mine tests you in ways not many games do. The Game Club team find out the lengths they're willing to go to stay alive during a siege. Not everyone makes it out alive.
In this Episode – This War of Mine
We're going to get into the nitty gritty of This War of Mine, so if you haven't played it… go and do that then come back.
First we discuss our nerd week, and the news.
This War of Mine is available from: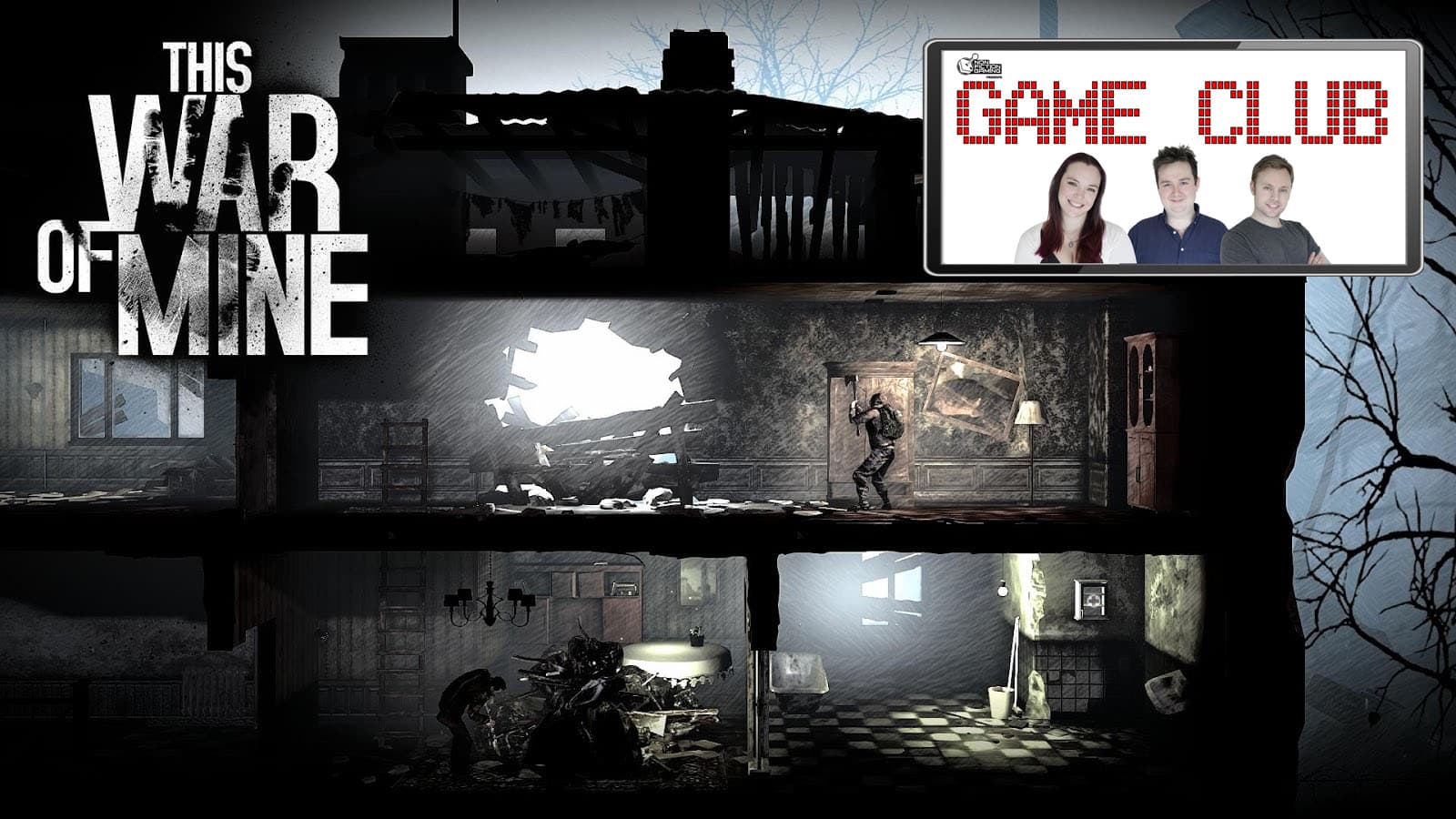 Nerd Week
Catherine
Charles – Unity, Zelda, Destiny on TTS, Catherine's waterbottle
Daniel – Star Wars marathon
Gaming News
About This War of Mine
This War of Mine is a war survival video game developed and published by 11 bit studios. The game, inspired by the Siege of Sarajevo during the Bosnian War,
Initial release date: 14 November 2014
Developer: 11 bit studios
Genre: Survival game
Publisher: 11 bit studios
Platforms: PlayStation 4, Android, Xbox One, iOS, Microsoft Windows, Macintosh operating systems, Linux
Nominations: The Game Award for Games For Change
Inspired by real-life events
Control your survivors and manage your shelter
Craft weapons, alcohol, beds or stoves – anything that helps you survive
Make decisions – an often unforgiving and emotionally difficult experience
Randomized world and characters every time you start a new game
Charcoal-stylized aesthetics to complement the game's theme
This War of Mine Game Discussion:
This week in Game Club we play This War of Mine and discuss the experience. From three very different points of view we discover the choices you make in War can come to define you and those you survive with.
Game Club Overview
Recap of This War of Mine
Listeners' comments on the game
What we loved about This War of Mine
Some control issues and what we didn't like
Does Game Club recommend This War of Mine?
Take the Game Club Quiz to see who's a Gameposter!

And More…
If you liked This War of Mine, you may like:
Daniel Recommends
Don't Starve:
Don't Starve is an uncompromising wilderness survival game full of science and magic. Enter a strange and unexplored world full of strange creatures, dangers, and surprises.
FTL: Faster Than Light
This "spaceship simulation roguelike-like" allows you to take your ship and crew on an adventure through a randomly generated galaxy filled with glory and bitter defeat.
Spec Ops: The Line
A Third-Person modern military Shooter designed to challenge players' morality by putting them in the middle of unspeakable situations.
Catherine Recommends
Sim Tower
SimTower allows the player to build and manage the operations of a modern, multi-use skyscraper. They must plan where to place facilities in the tower that include restaurants, condominiums, offices, hotel rooms, retail stores and elevators.
Fallout Shelter
Fallout Shelter puts you in control of a state-of-the-art underground Vault from Vault-Tec. Build the perfect Vault, keep your Dwellers happy, and protect them from the dangers of the Wasteland.
Charles Recommends
Gunpoint
Gunpoint is a stealth puzzle game that lets you rewire its levels to trick people. You play a freelance spy who takes jobs from his clients to break into high security buildings and steal sensitive data.
Reach out to Game Club on Twitter:
Next Time on Game Club
Goat Simulator
Goat Simulator is the latest in goat simulation technology, bringing next-gen goat simulation to YOU. You no longer have to fantasize about being a goat, your dreams have finally come true! WASD to write history.
Gameplay-wise, Goat Simulator is all about causing as much destruction as you possibly can as a goat. It has been compared to an old-school skating game, except instead of being a skater, you're a goat, and instead of doing tricks, you wreck stuff. Destroy things with style, such as doing a backflip while headbutting a bucket through a window, and you'll earn even more points! Or you could just give Steam Workshop a spin and create your own goats, levels, missions, and more! When it comes to goats, not even the sky is the limit, as you can probably just bug through it and crash the game.
Disclaimer
Goat Simulator is a completely stupid game and, to be honest, you should probably spend your money on something else, such as a hula hoop, a pile of bricks, or maybe pool your money together with your friends and buy a real goat