DayZ is a free mod for ARMA II, placing you in the position of one of the few who have survived a deadly disease outbreak. You must search this new wasteland in order to gather supplies lest you too be overcome by the plague. Go solo, team up with friends or simply take on the world as you choose your own path in this brutal and chilling landscape. You'll have to survive by whatever means necessary. Will you steal tins of beans and keep them to yourself or share with friends? This is DayZ – What's your story?
Day Z: Chapter One – Chazz
Grouped up with a couple of Russian survivors today, Gar and Psycho. We were crawling through the infested town of Balota, having just killed a horde of zombies down by the dock and searching for more ammunition, when we were ambushed by a bandit.
Gar was shot in the head in the middle of the road before he could draw a bead through his rifle on our assailant. Then the surrounding zombies went mad. I froze.
There were zombies everywhere and the road was turning into a fire lane as Psycho opened up on the bandit.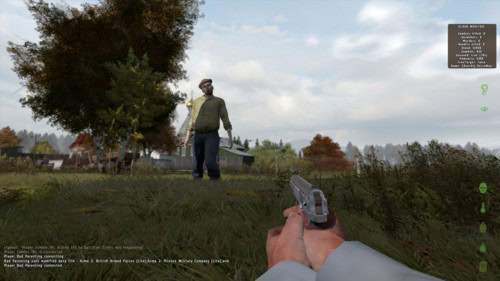 I ran to Gar's corpse, hoping the bullets whizzing past would miss me, to try and grab the sniper rifle from his dead hands. It was seconds before a few zombies saw my attempts and came screaming towards me. I gave up on the sniper rifle and ran for my life, leaving Psycho to his fate.
Loyalty runs pretty thin this side of the Apocalypse.
After jumping a few fences I made my way into the tree line and with the few bullets I had left finished off the two zombies still chasing me. I took cover behind some scrub and debated my options.
The town was too hot. I took a quick swig from my water bottle and moved further into the trees. Over that hill lay some outlying farms where I might find a rifle or shotgun.
I was determined that next time a bandit got the jump on me, he'd come off second best….
Chazz spends much of his time in the prone position hiding in brush, follow his manoeuvres on Twitter here. ARMA II Combined Operations is available to purchase and download through Amazon and Steam.