Nintendo has announced that they'll be bringing a new Pokémon game for the Nintendo DS to the Western world, called Pokémon Conquest. The game will be a locally translated version of an exisiting Pokémon game in Japan, Pokémon + Nobunaga's Ambition.
In the game, players will move away from familiar characters and instead play a Japanese warlord who is paired with a Pokémon. Nintendo say that the duo are:
"Set out to recruit Warrior allies to strengthen their growing kingdom. The player can choose to play as either a male or female character. Along their journey, players will encounter a variety of Pokémon, as well as Warriors and Warlords inspired by the Japanese feudal era."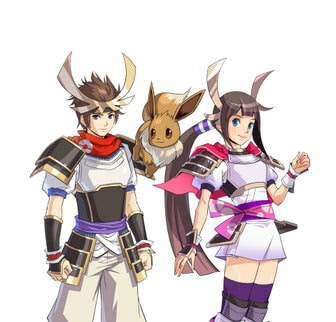 The game uses strategy RPG elements as opposed to traditional Pokémon gameplay. The game was released in Japan to a good reception, with reviewers praising the replay value and the easy to understand concept.
The game will feature a range of Pokémon, including some from the recent Pokémon Black and Pokémon White games. Pokémon Conquest is developed by Tecmo Koei games.
"Pokémon fans are always interested in playing in new environments and experiencing new adventures," said Scott Moffitt, Nintendo of America's executive vice president of Sales & Marketing. "Pokémon Conquest gives them an entirely new way to enjoy this beloved series, with exciting new settings, fierce battles and nearly 200 Pokémon to team up with."
Pokémon Conquest will be released on June 18th for the Nintendo DS, the game will also be playable in 2D on the Nintendo 3DS.