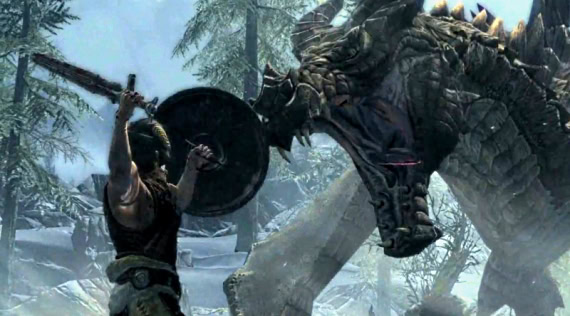 Bethesda and ZeniMax Studios are allegedly set to unveil an Elder Scrolls massively multiplayer online game this May, according to Tom's Guide.
Citing an anonymous "industry source," the site said the MMORPG will take place 1,000 years before the time-line of Skyrim and hundreds of years before any of the other Elder Scrolls titles, near or during the "Second Era".
The game may feature three playable factions, but all that is rumored about them is that they will be represented by either a lion, dragon, or a bird of prey (possibly a phoenix or an eagle).
Tom's Guide alleged that the game will be announced in May, followed by "some sort of presence" at E3 in June, and a presentation at Quakecon 2012 in August.
PC Skyrim players have had a chance to taste the Elder Scrolls' world may be like multiplayer through the mod Skyim Online.
Rumors of a Bethesda and ZeniMax MMO have been floating around for quite a while. But the widespread expectation was that the game would take place in the Fallout universe, as there have been some job postings on ZeniMax's site suggesting such a title.
This comes a few months after the settlement of several years of court hearings, a court had determined the rights to the Fallout MMO, often referred to as Fallout Online, will belong to Bethesda Softworks.
Until we hear something official from Bethesda though we will have to take any rumors with some incredulity.
Sources: