The Elder Scrolls V: Skyrim now has online multiplayer functionality thanks to a certain modder.
Before Bethesda has released the customary modding tools for their new hit game, Ninja coder 'Awpsoleet' has uploaded a mod for playing Skyrim with others.
The mod "Skyrim Online" is currently in Alpha stages, other players only appear as naked prisoners and glide around without animations. Players can log in and get a basic MMO experience by watching others mill around city hubs; running around in circles and jumping.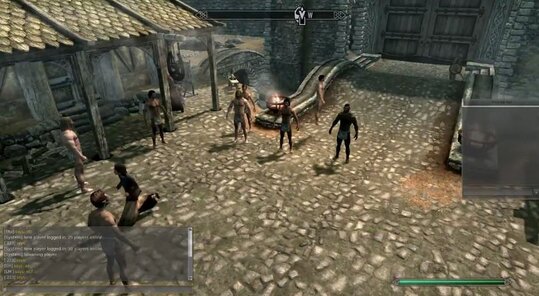 Many Dragonborne must have voiced the words, "This game is great, I just wish there was multiplayer/Co-Op". Well It seems Awpsoleet has heard the Thum and risen to what hopes to be a great addition.
While Bethesda has always made a great single player experience, maybe this will give them some ideas next time they want to send us into a post apocalyptic world. Or perhaps by the time we get to Elsweyr I'll at least be able to bring a friend along Dead Island Style.