Unexpectedly, Ubisoft debuted its new, ground-breaking intellectual property last week at E3; an open-world action-adventure game called Watch Dogs.
In Watch Dogs, players enter the dangerous world of Aiden Pearce, a new class of antihero whose ability to hack into any connected system is his most powerful weapon. Pierce is trying to fight back against the powers that be by using their own tools of oppression against them.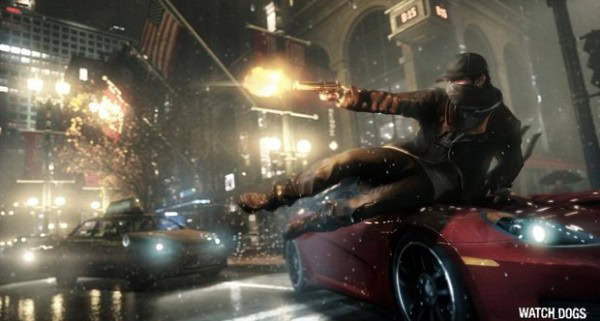 Viewers of the announcement trailer were shown the player triggering a 30 car pileup by manipulating traffic-lights to trap an enemy during a downtown shoot-out. Other promised abilities will be tapping into the city's omnipresent security cameras to access anyone's personal information, which will allow Pearce to coerce and control almost every element of the world around him.
While details for the morality system have not been confirmed, players will have to make choices on whether to take positive or negative actions.
Development of Watch Dogs is being led by Ubisoft Montreal, with a team comprised of industry veterans from big name franchises like Assassin's Creed, Rainbow 6 and Far Cry. Watch Dogs blends cutting-edge technologies and sophisticated game design into a realistic, open world where players must use any means at their disposal to take down a corrupt system.
[youtube_sc url="http://youtu.be/FcMRkyoHKeA" title="Watch%20Dogs%20-%20Game%20Demo" width="600″ autohide="1″ fs="1″ hd="1″]
Scanning a QR code that appears in the above demo video leads to dotconnexion.com, which appears to be a viral site related to the club seen in the game.
"Watch Dogs goes beyond the limits of today's open-world games by giving players the ability to control an entire city," said Jonathan Morin, creative director, Ubisoft. "In Watch Dogs, anything connected to the city's Central Operating System becomes a weapon. By pushing the boundaries, we can provide players with action and access to information on a scale that's never been seen in a video game before."
There will be an online compatibility similar to Demon Souls, giving players the ability to interact with someone else's game world. Players will be able to monitor what others are doing in some form, possibly even manipulating technology around your friend to aid or hinder operations.
Watch dogs is at least a year away from release but has been confirmed for the Xbox 360, PS3 and PC. At the moment there is only rumour that the developers may lengthen the development cycle and release it on the next generation consoles.