Stanley… decided to press play and listen to this podcast.
In this Episode – The Stanley Parable
We're going to spoil The Stanley Parable, so if you haven't played it… go and do that then come back.
First we discuss our nerd week, and the news.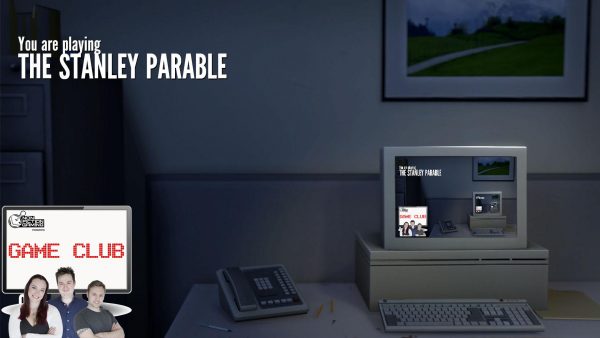 Gaming News:
About The Stanley Parable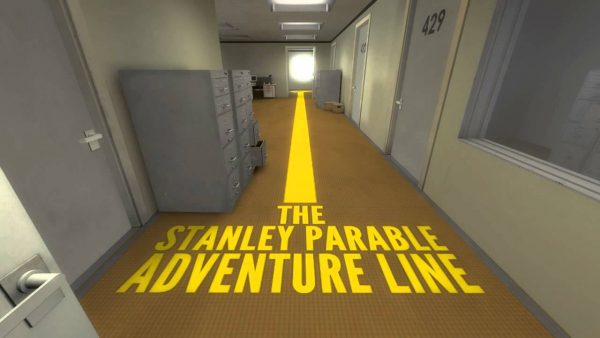 The Stanley Parable is an interactive fiction video game designed by Davey Wreden. The game originally released on July 27, 2011 as a free modification for Half-Life 2.
Engine: Source
Genre: Interactive fiction
Writer(s): Davey Wreden; William Pugh
Narrator: Kevan Brighting
Designers: William Pugh, Davey Wreden
Developers: Galactic Cafe, Davey Wreden
The Stanley Parable Game Discussion:
Game Club Overview
The Stanley Parable is a first person exploration game. You will play as Stanley, and you will not play as Stanley. You will follow a story, you will not follow a story. You will have a choice, you will have no choice. The game will end, the game will never end. Contradiction follows contradiction, the rules of how games should work are broken, then broken again. This world was not made for you to understand.
But as you explore, slowly, meaning begins to arise, the paradoxes might start to make sense, perhaps you are powerful after all. The game is not here to fight you; it is inviting you to dance.
What choices did you make on the first play through?
The inner workings of narrative games.
What Stanley Parable says about games and game development.
Spoilers Spoilers Spoilers
Our favourite endings

And More…
If you liked The Stanley Parable, you may like:
Catherine Recommends
Bastion is an action role-playing experience that redefines storytelling in games, with a reactive narrator who marks your every move. Explore more than 40 lush hand-painted environments as you discover the secrets of the Calamity, a surreal catastrophe that shattered the world to pieces.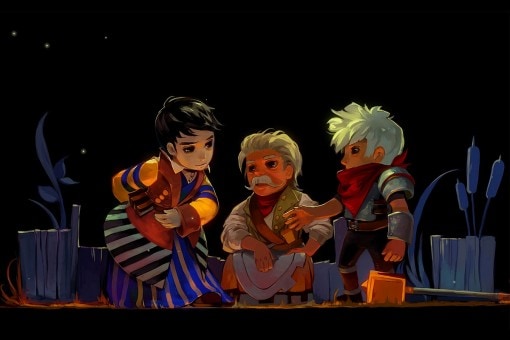 Wield a huge arsenal of upgrade-able weapons and battle savage beasts adapted to their new habitat. Finish the main story to unlock the New Game Plus mode and continue your journey!
Pony Island
Pony Island is a suspense puzzle game in disguise. You are in limbo, trapped in a malevolent and malfunctioning arcade machine devised by the devil himself. The devil detests having his puzzles solved and poor programming exposed; you will need to think outside the box to proceed and you will be insulted when you do.
Daniel Recommends
Portal 1 & 2
Set in the mysterious Aperture Science Laboratories, Portal has been called one of the most innovative new games on the horizon and will offer gamers hours of unique gameplay.
The game is designed to change the way players approach, manipulate, and surmise the possibilities in a given environment; similar to how Half-Life® 2's Gravity Gun innovated new ways to leverage an object in any given situation.
Players must solve physical puzzles and challenges by opening portals to maneuvering objects, and themselves, through space.
Thomas Was Alone
Steam, Kinguin,
Thomas Was Alone is an indie minimalist 2D platformer about friendship and jumping and floating and anti-gravity. Guide a group of rectangles through a series of obstacles, using their different skills together to get to the end of each environment.
Listen to awesome music by David Housden. Jump over rectangles meticulously placed by Mike Bithell. Listen to voiceover read wistfully and a bit amusingly by Danny Wallace.
The Stanley Parable is available on:
Reach out to Game Club on Twitter:
Tweet to us using #GameClubCast
Follow Daniel – @nfgDan
Encourage Charles to Tweet – @CharlesBryers
Read Catherine's scripts – @CSMcMullen
Next Time on Game Club
This War of Mine
In This War Of Mine you do not play as an elite soldier, rather a group of civilians trying to survive in a besieged city; struggling with lack of food, medicine and constant danger from snipers and hostile scavengers. The game provides an experience of war seen from an entirely new angle.
The pace of This War of Mine is imposed by the day and night cycle. During the day snipers outside stop you from leaving your refuge, so you need to focus on maintaining your hideout: crafting, trading and taking care of your survivors. At night, take one of your civilians on a mission to scavenge through a set of unique locations for items that will help you stay alive.
Make life-and-death decisions driven by your conscience. Try to protect everybody from your shelter or sacrifice some of them for longer-term survival. During war, there are no good or bad decisions; there is only survival. The sooner you realize that, the better.
PS. There's currently a sale on Humble Bundle for This War of Mine, if you're playing along with us, it may be worth picking up a copy here.