League of Legends Oceanic Pro League Champions the Chiefs Take The Fight To Brazil at IWCQ
The Chiefs eSports Club, started their International Wild Card Qualifier (IWCQ) campaign in Brazil today in a bid to reach the Worlds series.
In the IWCQ, the Champion teams from eight regions compete from August 25 to September 5, with the top two advancing to Worlds in the USA.
The Oceanic Pro League winners, went head to head with Albus Nox from the CIS region (Commonwealth of Independent States including Russia and Ukraine) this morning, and although they suffered a loss, they are adamant that they still have a good chance for the rest of their draw.
Tomorrow, the Chiefs will go up against Kaos Latin Gamers from Latin America South (7am AEST) and Saigon Jokers from South East Asia (10am AEST). They will need to win both of these games to keep alive their dream to attend Worlds.
The representatives from Oceania, Brazil, Latin America North (LAN), Latin America South (LAS), Japan, Russia/CIS, Turkey and Southeast Asia (Garena) fight it out for their region on the wildcard stage.
Fox Sports will be following the Chiefs journey at IWCQ, giving viewers a behind the scenes look at the competition and the Chiefs team. Fans can now watch the Chief's prep for their first Worlds qualifier match or re-live the OPL final as the Chiefs talk through their dominant win over Legacy.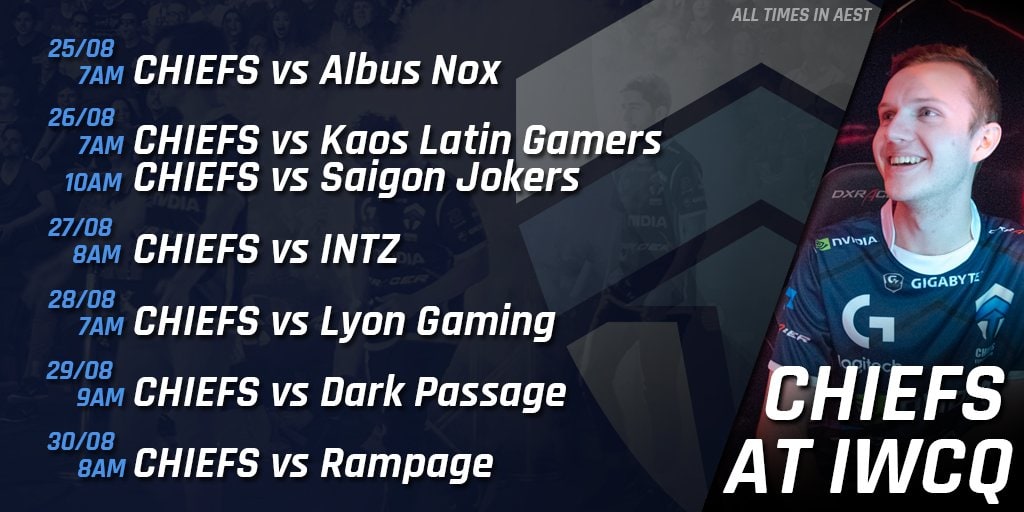 The spotlight on Aussie eSports comes soon after Aussie Uni Games officially included League of Legends as one of their sports. The Chiefs have taken to the world stage before as the first team to win the Oceanic Pro League, with a little more international experience they're shaping up to be a contender.
You can follow the Chiefs on Twitter and send them messages of support at @ChiefsESC. Also, check out the schedule and watch the Chiefs live tomorrow via http://oce.leagueoflegends.com/en/featured/iwcq-2016/ .