University can be a tough time for young adults. You're fresh from high school and thrown together with people you've never met and you're expected to pull your finger out and get onto some learning.
The general gist of things is that it's time to pack away 'childish' fancies like video games and focus on 'adult' things such as Arts/Law or your Communications degree. When you're trying to make some friends at University it's a pretty good idea to join a club or take part in UniGames, unfortunately the skills cultivated in dominating Mid-Lane don't easily translate into doing well in UniGames… Until now.
So when Australian University Sport pairs up with Riot Games to offer League of Legends as part of UniGames the nerd inside rejoices and we worry for all those assignments being procrastinated.
League of Legends becomes part of Aussie Unigames
In their recent announcement, Riot Games explained how League of Legends came to be part of the Australian Unigames,
Last semester 34 universities and technical colleges participated in the University Championships. This was made possible by the members and organisers of university LoL clubs across the region.
As a next step for this competition we are trialing League of Legends as part of the Australian University Games. The format will be similar to previous tournaments, with the Regional and National rounds being part of the Unigames.
When you have to study for exams but OPL is life #IAMOPL @LOL_Oceania @redbullau pic.twitter.com/estsHTStSM

— Adam Griffin (@adamgriffin64) June 7, 2016
Riot has been dipping their toe into Australian Universities for a while now. Video game nerds like myself gravitate to one other if only so we don't need to queue with other random players in Ranked matches.
I see this next step as a great boon for League of Legends. Many gamers who get into MOBA games tend to stick with one their friends are playing. Heroes of the Storm, DotA 2 and Heroes of Newerth are all great alternatives to League, but players are going to put more time into the game they can play with friends.
Taking League of Legends and elevating it out of the humble club or gaming group gives it a certain level of prestige. Supposedly in line with Ballsports and Drinking (The other Australian University student pastimes) this eSport addition may receive some eye-rolling from the non-gamer elite at first but the hardest part is probably over.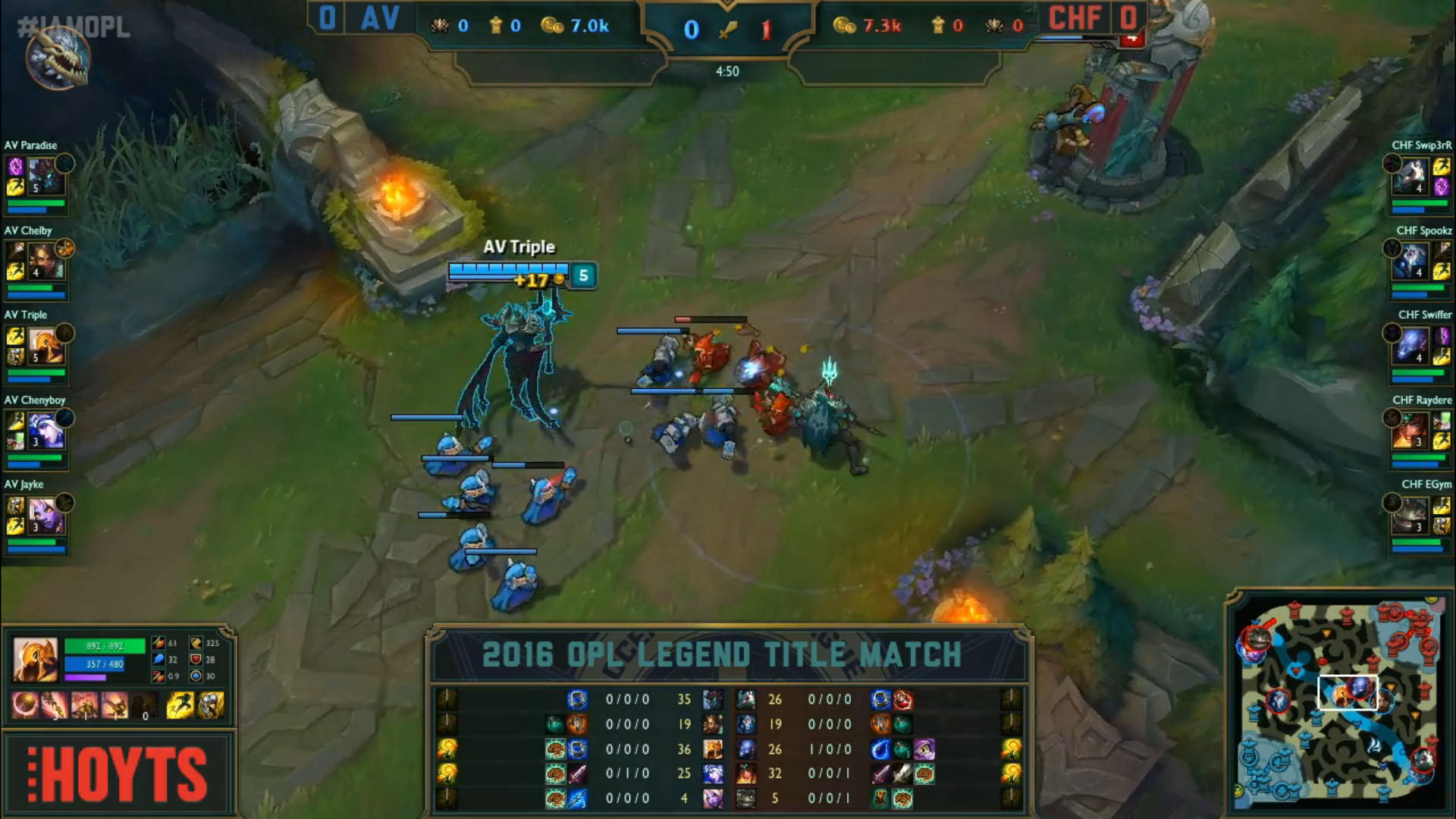 University students are of course an excellent market for Riot Games, they're at that perfect age where they're just learning how to balance a budget of Coffee, Ramen and In-game purchases.
A student also has a lot of stressful study to do, so this way you can reassure them it's ok to procrastinate a little to play a few LoL matches as a way of making Uni friends.
According to the Australian University Sport CEO Don Knapp,
"The student engagement opportunities that result from the rapidly increasing popularity of esports across campuses in Australia has certainly grabbed our attention,
AUS  (Australian University Sport) is keen to promote student experience through the League of Legends platform as yet another means of expanding our reach to broader campus communities."
What we see here is a step towards cultural acceptance of eSports as being a legitimate alternative to conventional sports.
As a bit of a backyard operation, grass-roots level eSports competition runs into a number of hurdles in getting the funding or sponsorships to make it worth anyone's time. League of Legends becoming a sanctioned sport inside Unigames opens up new opportunities for competition as Australian University Games has long running experience in managing these kinds of events.
Australian University Games League of Legends eSports Competition
To claim the Australian University Games League of Legends eSports title…. – Which needs a nicer name that rolls off the tongue – teams, in Aus and New Zealand need to progress through four stages.
Inter-University Tournaments – Teams need to enter their Inter-University Tournament during June at participating universities.
Regional Online Tournaments – The winners from each university will compete in regional online tournaments (5-7 July), including Eastern (New South Wales, ACT), Northern (Queensland),  Southern (Victoria, South Australia, Tasmania), New Zealand and Wildcard (regions not covered by the four groups).
Nationals – The top teams from each region will then play in an online round robin to determine who will make the final.
Australian University Games – The finalists from Nationals will head to Perth to play for the title in front of a live crowd at the Australian University Games (25-30 September).
When will we see an Australian eSports Scholarship?
Remember when your parents wanted you to quit playing video games and do something more productive? Expect the mainstream media to lean heavily on that joke when the time comes for Australian eSports Scholarships.
Scholarships have been around forever, however eSports scholarships have only come about in the US in 2014 with Robert Morris University in Chicago offering tuition to pro gamers as a bid to raise enrolments.
Could we see Australia following in the US' footsteps any time soon? Your editor doubts it will be this year or even the next.
Watching this year's Oceanic Pro League (LoL's Australian competitive) series I noticed the engagement numbers aren't quite high enough. Without official numbers I can only go off what I saw, and having 1.5k viewers is nice, but it will need to do better.
Australia is heading in the direction of making eSports more 'mainstream'. However there is a bit of an attitude problem with supporting our Homegrown eSports talent. Unfortunately if this attitude remains widespread, Aussie eSports will stall or at least take longer to be accepted.
We've discussed this at length here at Non-Fiction Gaming and have even run our own Aussie eSports competitions.
If you're a young gamer looking to get a ride into University on a scholarship though, it's worth hedging your bets with another skillset for now.
Regards,
Daniel Ryan