Nintendo Australia today confirmed that Harvest Moon: The Lost Valley will be available on 3DS this June.
The game that was originally released Novemeber 2014 in North America, is making its way to Europe and Australia according to the press release today. Some further details were confirmed for the upcoming farming simulator.
"Choose whether to play as a girl or boy, then get ready to shape the land to create your very own personalised farm," Nintendo oulined. "Fulfil the requests of visiting townsfolk, befriend them and even get married, all as part of a quest to restore the four seasons back to normal."
The story behind Lost Valley and every earlier game in the Harvest Moon series has a a run down farm thrust into your arms where you must work every day to make a living.
Some new additions to the franchise will include moulding and shaping the land in a fully 3D environment. The player will be able to dig down to create caves or stack the earth to form mountains. Create fishing ponds and crop fields, and build roads and bridges to reach and explore new areas.
Care for Animals, Forge Friendships and Shape the Land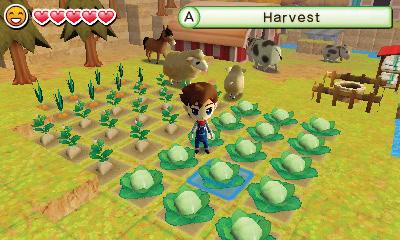 Much like previous games, a wide variety of animals become available to nurture, including cows for milking, sheep for their wool and chickens that lay eggs to sell. By tending to your livestock everyday, keeping them comfortable, well-fed and happy, they will provide you with better quality produce to sell.
As well as the daily care of your farm you will also meet and befriend local townsfolk who will offer you quests and useful items to purchase. Among the cute cast of characters you'll also encounter bachelors and bachelorettes who you may even end up calling your husband or wife.
Harvest Moon: The Lost Valley will be available via retail the Nintendo eShop from 20 June on the 3DS family of systems.